Minimally invasive treatment saved life and tongue*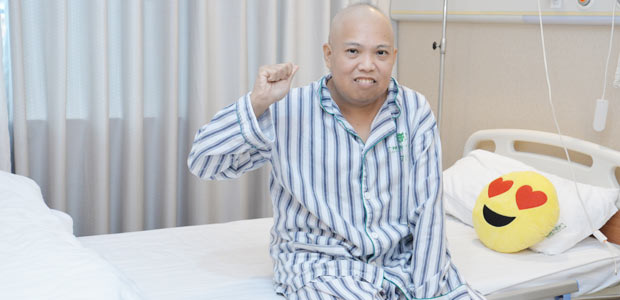 LOH JUI TONG
LOH JUI TONG: Thanks to minimally invasive treatment for keeping my tongue and benefiting me chance to enjoy more delicious food.
LOH JUI TONG's tongue was filled with bumps, which turned out to be tongue cancer and three months later his tongue almost split up into two parts from the middle, so the local doctors suggested him to cut out half of his tongue. But how can he speak or eat with half tongue left? Multiple Disciplinary Team in MCHG conducted radical treatment on his tongue cancer first and then minimally invasive therapy was applied. After treatment, his tongue was kept and tongue bump disappeared. Now his tongue functions as normal.
Diagnosed as tongue cancer stage III
In August 2015, a bump emerged in his tongue, with ulcer on the surface, so he went to local hospital for biopsy but it turned out to be well. Until December, he started feeling ache in his tongue and his consumption was affected. Realized the serious situation, he went another biopsy, the result showed he got tongue cancer and it already turned into stage III. Since New Year was near, he didn't undergo immediate treatment but left it alone, which was not a permanent solution to his disease. Before long, tongue ulcer emerged and ache further intensified and weight dropped sharply. What's worse, sleeping, speaking and eating were seriously affected by his tongue cancer.
In March 2016, LOH JUI TONG underwent radiotherapy and chemotherapy in Malaysia since tongue bump enlarged. Radiotherapy and chemotherapy are systemic therapies, they would kill cancer cells as well as normal cells, which did great harm to patient. During the process, LOH JUI TONG lost his hair and taste. Even though the tumor became smaller, the doctor suggested him to remove the tumor completely through surgery, which meant half of his tongue needs to be cut out. LOH JUI TONG rejected this suggestion in consideration of the difficulty it may cause to his speaking and eating.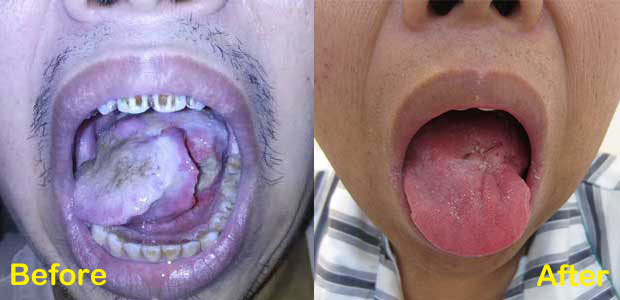 Minimally invasive therapy successfully killed tongue cancer
In July 2016, LOH JUI TONG came to MCHG. After thorough checkup including blood test and CT check, Multiple Disciplinary Team decided to conduct radical treatment and interventional therapy as well as natural therapy.
Interventional therapy is one of the most common therapies among minimally invasive targeted therapy technology. During the process, the doctor will fix the position of tumor lesion first with medical imaging device and then injected anti-cancer drugs directly to the tumor lesion. The concentration of anti-cancer drugs are 8 times higher than that of intravenous injection, which means the therapeutic effects are 8 times higher, too. At the same time, it does little harm to patients. In addition, interventional therapy is a mini-invasive therapy. With a 1-2 millimeter incision, it can be performed with the lead of CT and features no surgery, small trauma, quick recovery and significant efficacy.
After the first session of interventional therapy, LOH JUI TONG has gained good efficacy without numbness and swelling. According to his attending doctor Hu Ying, he was infected with unexplained bacteremia and suffered fever for half a month. Afterwards a blood culture unveiled the reason is the venous port he underwent in another hospital. So the doctor took out the venous port and the fever disappeared promptly.
Currently, he has taken respectively two sessions of interventional therapy and natural therapy. There's no fester on his tongue and the tumor has disappeared. He's living as normal with body functions well. He also stated that he is a foodie. Thanks to minimally invasive treatment, he can freely enjoy his favorite food.
Warming tips for tongue cancer treatment:
Tongue cancer is classified as entire tongue carcinoma(2/3 in the front) and tongue base carcinoma(1/3 in the back). In most cases, tumor occurs in the tongue margin and sometimes in the lingual apex, lingual undersurface or lingual undersurface. Clinical manifestations include ulcerative type and infiltrative type. Both types spread quickly with intense pain and high infectivity.
There're several options for tongue cancer treatment. Comprehensive treatment combined mainly with surgery is suitable, while radiotherapy can achieve good efficacy in the case of tongue cancer in early stage. For patients in middle and advanced stage or who was inoperable, overall minimally invasive treatments are better choices, including interventional therapy, cryotherapy, biological natural therapy and Traditional Chinese Medicine and targeted minimally invasive treatment.