No Resection, Treating Advanced Prostate Cancer with Minimally Invasive Therapy*
60-year-old NG SWE CHIN is an advanced prostate cancer patient from Malaysia. Due to his work, he has meetings every day and he has to stay in the meeting room for a long day. In the first place, he had symptoms like increased urination; it was painful for him to go bathroom every half an hour. One month later, he had to use the toilet after five minutes break and he felt pain while urinating, so he went to see doctor.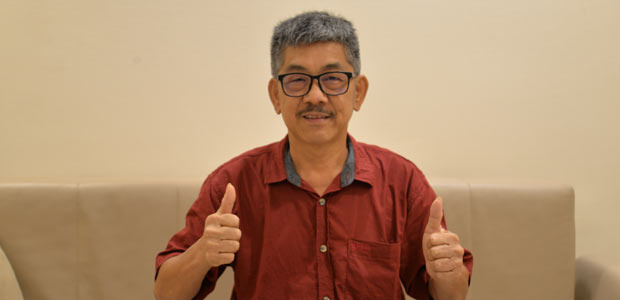 NG SWE CHIN
Suffering late-stage prostate cancer, he rejected surgery and chemotherapy
On June 14, 2018, NG SWE CHIN took B ultra-sound and biopsy in a private cancer hospital in Malaysia, and it turned out to be advanced prostate cancer with bone metastasis. Seeing the result, the doctor suggested him no suitable treatment since he was too old and it was too late for him to take any treatment. For NG SWE CHIN, it was no way for him to give up his life in such a way, so he went to another hospital, and doctor recommended surgery and chemotherapy to him, but he rejected with a reason, "In Malaysia, as I know, there are only surgery, chemotherapy and radiotherapy for cancer patients, but I thought it's pretty tough to endure the trauma and side effects from operation and chemotherapy at my age. I can be easily weakened and beaten, since anti-cancer drugs kills both cancer cells and normal cells, thus I turned down the suggestion without hesitate."
Minimally invasive technology brings me hope for life
In dilemma, his secretary found St. Stamford Modern Cancer Hospital Guangzhou and its minimally invasive technology, which is recognized as the cutting-edge cancer treatment technology, featuring minimal trauma, targeted operation and fewer side effects. Later, Alan Yang, general manager of St. Stamford Modern Cancer Hospital Guangzhou Penang Office tried to get in touch with NG SWE CHIN and explained how minimally invasive techniques treat cancer and recommended a treatment plan of particle implantation combining with natural therapy based on NG SWE CHIN 's physical condition.
"I learned from Alan that minimally invasive therapy is quite different from surgery and chemotherapy, its chemo drugs are directly injected into the tumor lesion, which attack and kill cancer cells precisely and cause little damage to the normal organ and patients' physique, and bring with few side effects. After listening to WONG SOOK KWAN, who received breast cancer treatment in St. Stamford Modern Cancer Hospital Guangzhou, talking about her personal experience, I decided to give it a try. Even though my family insisted cancer treatment in Singapore or in America, but I still came to this hospital." said NG SWE CHIN.
Particle implantation and natural therapy lowered my PSA to 0.2 ng/ml
On July 5th, 2018, accompanied by his family, NG SWE CHIN arrived in St. Stamford Modern Cancer Hospital Guangzhou. On his arrival, the Multidisciplinary Team (MDT) arranged his check-up immediately and organized a joint consultation on his case, and based on his tumor progression and physical condition, they decided to conduct particle implantation and natural therapy for NG SWE CHIN.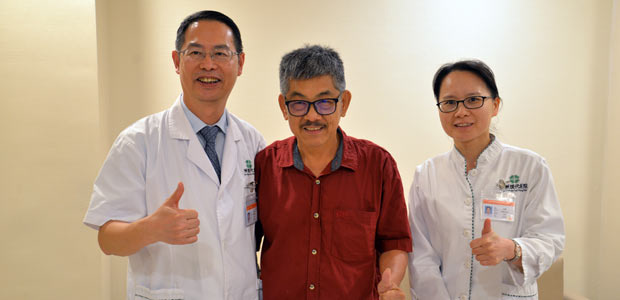 Chief physician Wu Qingkai, NG SWE CHIN and his attending doctor Dr. Lin Jing
Before his hospitalization, NG SWE CHIN's tumor, measuring around 8 cm, was oppressing and blocking his urethra, causing difficulty in urination, and his PSA was up to 25.6 ng/ml (Normal Reference Values: 4 ng/ml). In Malaysia, doctor prescribed him diuretics and intubated him to help urination, which was painful. Moreover, NG SWE CHIN had to struggle with herpes because of the side effect of diuretics.
After admission in St. Stamford Modern Cancer Hospital Guangzhou, NG SWE CHIN received particle implantation and natural therapy. After the first course of treatment, his tumor significantly shrunk, the difficulty and pain in urination disappeared, and his tube and urination bag was removed, and herpes faded away. "I require no urine bag anymore. The tumor is shrinking; there is no pressure on the urethra, no difficulty in urination, and no blood in the urine. I think I am obviously getting better. Just one month later after the treatment, my PSA was only 0.2 ng/ml." said NG SWE CHIN pleasantly.
Speaking of the treatment process and adverse reactions, NG SWE CHIN said that he was very anxious and nervous before he underwent treatment. But it turned out that his fears were completely unnecessary: because during the procedure when he was on the table, he was conscious of what was done and how. When the particles were implanted, there was only a very slight pain like an ant bite; after the treatment, he went straight down from the operating table, walked freely, and he did not feel any discomfort.
I made a correct choice coming here for cancer treatment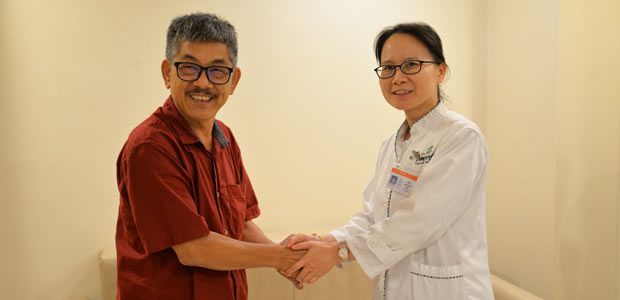 NG SWE CHIN and his doctor Lin Jing
"When I first decided to come here for treatment, I didn't have much support from my family and friends. But after meeting cancer patients who were treated here in St. Stamford Modern Cancer Hospital Guangzhou, and listening to their experience, their approval and appreciation of this hospital, I made my choice. Because I believe if the technology and treatment in this hospital are not effective, no one will ever recommend it to you. But they did recommend it. It must be that they have advanced technology and good services which are helpful to the patients. I came here and underwent minimally invasive therapy; I met with professional doctors and dedicated nurse. I accept this interview, hoping to help more cancer patients and let them know the wonderful minimally invasive treatment which indeed can help them. It's my first time to make a speech in front of a camera. I hope my sharing can give them some help!" said NG SWE CHIN pleasantly.