8 years more survival time for lymphoma patient given by Interventional therapy*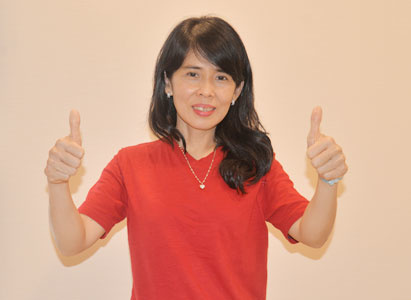 Testimonials: Fully trust on doctors and medical technologies from Modern Cancer Hospital Guangzhou and fight against cancer bravely.
In May 2016, a special lymphoma patient, from Djakarta, came to Modern Cancer Hospital Guangzhou for reexamination. To her great delight, CT scan shows everything is normal with no sign of tumor recurrence, which means she has lived 8 more years fortunately since she was first diagnosed with lymphoma. However, she had a miserable time before.
In December 2007, Elly unintentionally found a red bean size tumor on her neck, and ulcer like white spots in the mouth. Accompanied by the family, she came to local hospital for check up and be diagnosed as lymphoid tuberculosis. The local doctors recommended several abroad hospitals for treatment. After briefly considering, she came to Malaysia. She thought that was a simple disease, but the truth once pushed her and the family to verge of despair.
The misdiagnosis made situation worse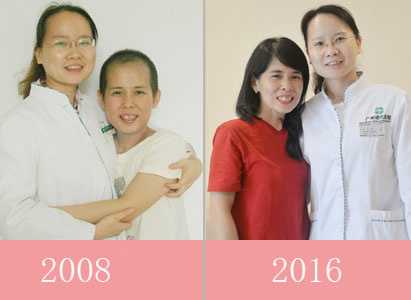 In March 2008, surgery was done to remove the lump, and one sample was taken for biopsy in Malaysia. To her surprise, during the time she was waiting for the diagnosis after surgery, the tumor quickly swelling to more than ten centimeters with continuing deteriorate physical condition. Without more considering, Elly returned to Jakarta instantly. Before long, the diagnosis came as a nightmare: lymphoma stage III. All of these things happened unexpectedly, which made her sad and scared.
Afterwards, Elly sought for Chinese medicine treatments in Indonesia, but the effect was not as expected. She became weaker gradually with 7kg weight reducing, and even walking was difficult to her. For the most critical time, she even lived on infusion to sustain life.
Received treatments in MCHG
Under this situation, Elly and the family were at a panic. Introduced by some friends, they got to know MCHG. Although her friends strongly recommended MCHG, but she lacked confidence due to former unpleasant treatments experience.
"Fear and nervous feelings lingered all the time. Since some unpleasant treatment experiences in Malaysia, like serious doctors, few times of being scolded and limited treatments effects, which lead to psychological shadow on me. When they talk about MCHG, I do not trust them initially," Elly said.
Tumor shrank in size gradually and disappeared finally
In May 18, 2008, accompanied by her husband, Elly came to MCH for cancer treatment. To her most delight, she recovered after treatment in MCHG.
After a full study of Elly's case, MDT of MCHG developed a treatment plan as interventional therapy and combined chemotherapy. "Before the treatment is performed, doctors comfort me and explain me all the procedures. To ease my nervous emotion, doctors also play some soft music during treatment. Because it is a local anesthetic, I can feel the whole surgical procedure. Listening to music while undergoing treatment, which is really a relaxed treatment experience. When treatment finished, doctors patiently inform me the contraindication. All of these warm details refreshed my former impression regarding treatment procedures," Elly expressed.
After the first combined chemotherapy, obviously tumor shrinkage was showed. With several times of treatments, the tumor shrank in size gradually and disappeared finally. She was back to a normal eventually.
MCHG is a second home for me
In May 5, 2016, Elly came to MCHG for reexamination. What impressed her greatly was not only her regained health, but also the foreign friendship.
With the outgoing personality, Elly made friends with the nurses, doctors and interpreters. When heard Elly was back to the hospital, all these friends came to accompany her for dining, shopping, full of joy and happiness.
"For me, it is a home-like place with warm and love feelings, all the medical workers are like my sisters and brothers," Elly said.